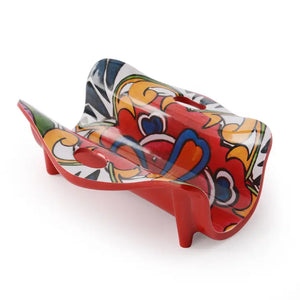 Single Taco Holder Red
Our single taco holder has the same high design patternation as the multi and a beautiful soft shape for cradling your precious tacos. The decorative holder has the look of traditional ceramic with a durable melamine construction. Works with both soft or hard taco shells. Available in red with unique graphic patterns.
Key features:
• securely holds a single taco for easy filling
• decorative patterns and matching colors
• ceramic look - durable melamine construction
• easy to clean - dishwasher safe
Due to monitor differences, actual colors

and/or patterns may vary slightly from online.